I'm probably going to cry while writing this. Motherhood has made me a crier.
Going to month two has brought all kinds of changes. We regularly see her dimples now (yay for something from Mummy!), and she still reserves her best smiles for her two favorite people- Mum and Dad. But she's starting to smile for other people now, too.
I've packed up all her newborn clothing and diapers, which i CANNOT believe she grew out of so fast! I want her to stay my snuggly baby forever, but i'm pretty sure she's going to go off to college in a second...
She has REALLY good head control now. In fact, she fusses if we don't hold her over our shoulder- she wants to practice holding up that noggin. She also pushes herself up to stand when we have her over our shoulder!
She sleeps REALLY well. While I can't seem to get her to sleep through the night (if I feed her at 10 or 11 she still wakes up) she usually only gets up once in the night, for about 30-40 minutes. So I'm feeling pretty well rested. :) She also takes great naps.
This month has brought an addition to our family: Calvin. Calvin is what B has named the glow seahorse that my friend
Tanya
(the genius!) told me about. Calvin is a remake of the old
gloworm of my youth.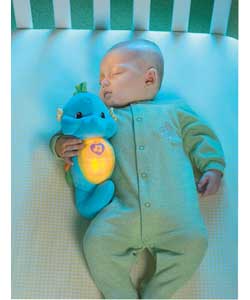 He plays music and lights up. And C LOVES HIM. Seriously, we lay her down for a nap and her eyes are GLUED to him. And we only rarely have had to re-start him (he plays for about 5 min), usually she falls asleep during that 5 minutes! What's great about him is that we can bring him with us! We'll be doing a LOT of traveling these next few months, and C will always have Calvin with her. :)
(Note, this picture is NOT of her. Calvin "sleeps" in the corner, quite far from her. Babies this size don't really snuggle with their stuffed animals- this pic kind of made me giggle!)
Our awesome friends Brian and Beth brought us to a Red Sox game Sunday night, so C has been two TWO Red Sox games in the two months she's been alive. Craziness. We had a fun time with them, as always, and, the Sox won! Yay! :)
Next Week C will go in for her two month check up, so i'll have the official stats then, but by home scale, i think she's about 13 pounds! But you can REALLY tell how much she has changed by looking at these pics.
The second onesie i made is the same size as the first- i couldn't even BEGIN to be able to button it! I had to make another one-in the 6-9month size!! (though, this brand runs REALLY small). But anyway, you can see that Month One fits, while Month two, does not! She's a good eater, alright!
Speaking of eating, she IS a good nurser..but she HATES the bottle!! We've had such a hard time with getting her to take one. She does take it a little bit, but it is hit or miss whether or not she will take a whole feeding. Hopefully by the end of the month she'll be better- at my friend's wedding that i'm in she'll need to take a bottle from her babysitter! The girl does NOT like latex or silicone. She won't take a pacifier either. (i've tried 3 brands of bottles and 5 pacifier brands... I'm giving up hope!)
She is starting to find her hands and realize cause and effect- if i touch this, it makes noise. She doesn't REALLY get it yet, but she's starting to. (like, if she hits it by accident, she's happy that she did it and tries again....sometimes!). She DOES like to suck on her hands, when they (accidentally) make it to her mouth. Blankets are also a-okay to suck on. (but not plastic, latex, or silicone!)
Today we went to our first Strollerstrides class. Strollerstrides is TONS of fun AND a good workout. We jog and do calisthenics and use rubber resistance bands while interacting with the babies... For example, we sang songs to the babies while doing squats. Hopefully this will help me get the edge during the SBL! C seemed to like it, for the most part. It was fun seeing older babies look at all the mommies. This week (Hopefully) we will be going to a "Mommy & Me" Yoga class, with some of the women I did pre-natal yoga with! Should be fun!